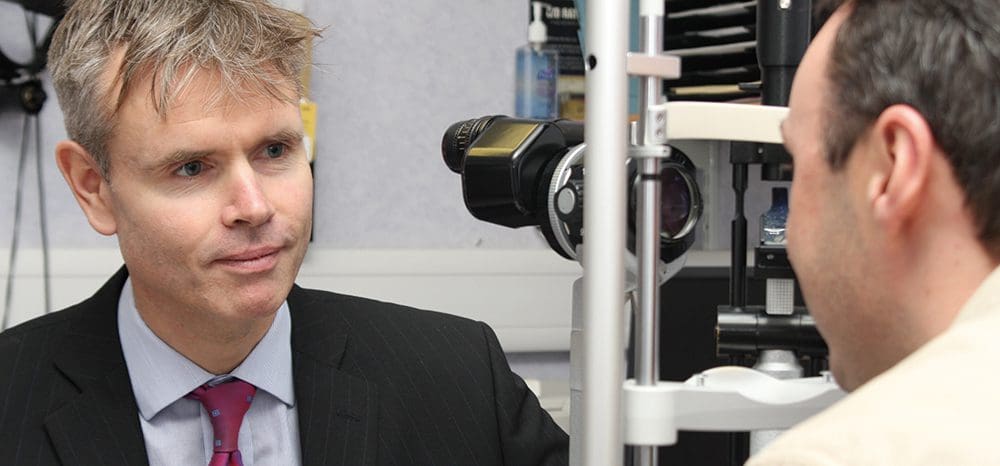 A consultation for vision correction is the crucial place to find out more about the clinic and its available treatments; however this is also the place to find out vital information about your surgeon. Finding the right surgeon who has the right level of specialist training in refractive surgery, uses the most up-to-date technology and has considerable experience in the procedure that has been recommended for you, is essential when choosing the clinic to have treatment in.
Here LaserVision present the key questions you need to ask your laser eye surgeon to qualify his/her expertise:
Do they have fellowship training in refractive surgery?
Where any surgeon can perform laser eye surgery, it is important for your surgeon to have a fellowship as it demonstrates that the surgeon is trained specifically in this field and is trained to the highest standard.
Is your surgeon a corneal specialist?
The surgery is often dependent on the cornea and having a corneal specialist to do the surgery is important as they are used to complex management of the cornea and how to look after it best at times of surgery. Other surgeons do not understand this. Also, in the rare event of something unexpected happening, it is important it is identified early and treated correctly as any complications are referred to a corneal surgeon so its recommended that your surgeon is a corneal specialist in the first place.
How many laser eye surgery procedures have you carried out in the past year?
A minimum of 500 is recommended per year but always look at quality and not quantity. Ask for specific statistics on outcomes and surgical results that they have completed personally (not as a clinic) relative to the procedure you are looking to undergo. Look at the percentage of people who require enhancements also.
How many patients do you consider unsuitable for laser eye surgery?
If the surgeon says that everyone is suitable, it suggests that the surgeon is not correctly indentifying those unsuitable and complications may occur.
Have you performed refractive surgery on family members or other doctors?
This suggests that colleagues who are in the know choose those surgeons with the correct experience and that the surgeons trust the surgery, the equipment, and their own skills to get the best result.
What is the best treatment for my eyes?
Only after a full eye assessment is your surgeon able to advise you on a specific procedure that is right for you and your eyes. Do not settle for a one treatment for all approach.
What results can I expect after laser eye surgery?
The vast majority of people obtain at least 20/20 vision, and every one obtains legal driving vision – so long as their eye has the potential to see (i.e. not a lazy eye) great results can be expected, however please note all results will depend on your individual circumstances.
Will I still need glasses or contact lenses after the surgery?
It depends. Mostly not but some people will still need glasses if they have other issues with their eyes such as presbyopia. It is important to understand that the majority of people will be spectacle free but the approach is to see laser as a technique to REDUCE dependency on glasses or contact lenses.
Will the treatment be personalised to my eyes?
LaserVision stand out from many laser eye clinics because we are one of the only clinics to offer a truly personalised service from the initial consultation, the procedure itself and the tailored aftercare plan – this is to ensure we achieve the best results possible.
How long do the results of laser vision correction last?
Laser surgery can last many decades or lifelong, especially treatment for myopia(short sight).
Would I have rapid access to a consultant refractive surgeon if there are any problems?
You should always expect access to the surgeon post treatment if required. At LaserVision, you will always have access to your surgeon.
What are the risks of laser eye surgery?
All risks and potential complications should be well considered before making the decision to forward with surgery. There is no simple yes or no answer, as it really does depend.
---
Your LaserVision consultant surgeon can expertly guide you through the best treatments for you. Each treatment is personalised to achieve the best results.
---